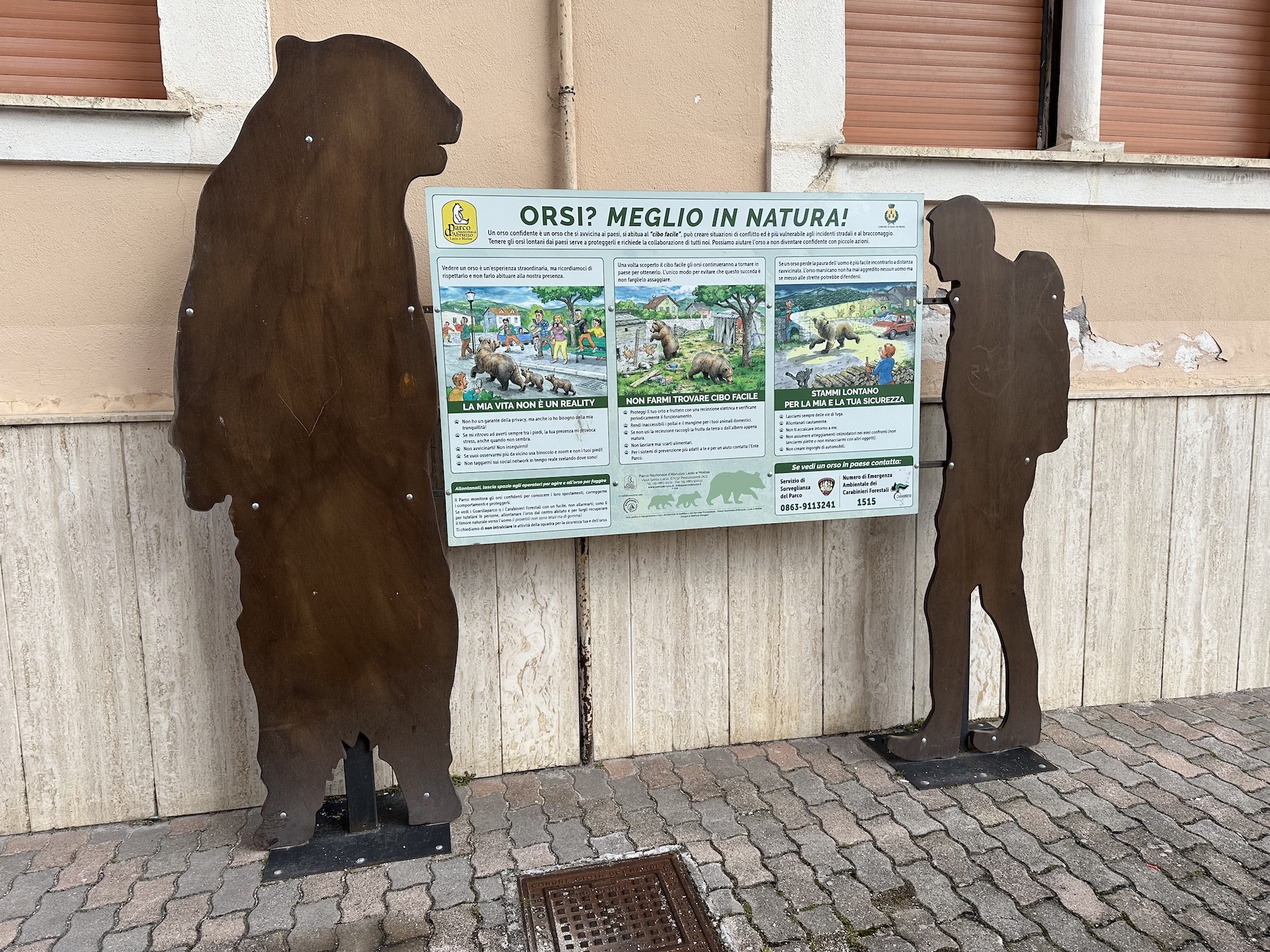 Meeting new landscapes and people, learning a new language, exploring a new culture and being part of a diverse group of likeminded people is enriching and recharging. Especially - for me personally - if this likemindedness and the activities concerned focus on a mutually respectful coexistence of wildlife and humans. Thus, I scheduled time off to volunteer at Rewilding Apennines in the Central Apennines of Italy.
The Central Apennines landscape has nature at its heart with snow covered limestone peaks, green valleys, caves, underground streams, and some of Europe's oldest beech forests. The Piana del Fucino used to be a lake, and since its complete drainage in the 19th century it serves as the region's vegetable garden. This rich diversity of ecosystems is partly being protected as a National or Regional Park*. Rewilding Apennines focusses on five corridors between these parks. The Marsican brown bear, endemic to the region and with around 60 of them left, is the protagonist in this story, with badgers, foxes, wolves, red deer, roe deer, bats, butterflies, birds, and humans profiting as well.
Establishing coexistence corridors
Rewilding Apennine origins from the locally based organisation Salviamo l'Orso – We save the Bear. Both organisations, the Park boards, other NGOs, and Central Apennines Institutions have already been working side by side for many years. The EU LIFE Bear Smart Corridors is the most recent initiative, aiming to disseminate measures to prevent damage from bears, providing compensation, and focusing on dialogues with local communities to both improve the bear habitat and safe movement of bears along the ecological corridors, and to reinforce the cultural binding with the landscape and wildlife to boost local developments, for instance by ecotourism.
The idea is that by establishing coexistence corridors the Marsican brown bear can expand its habitat and consequently grow in numbers. As the term 'coexistence' implies, these corridors aim at a mutually respectful coexistence of bears (and other wildlife) and humans. Rewilding Apennines and Salviamo l'Orso take action to prevent and disseminate damage from bears – see the list of activities below. Volunteers are involved in each of these activities and provide both hands and heads, thus making a lot of work possible and contributing to scientific research at the same time. This is for instance done by data collection and data analysis, and by students executing their master theses.

Activities
Rewilding Apennines volunteers are involved in diverse activities, such as:
Fruit tree pruning in deserted and overgrown fruit orchards near villages. As bears love fruit, these fruit trees are being pruned to keep them healthy. The idea is that if plenty of fruit is available within the bear corridors but outside the villages, bears can pick their groceries unnoticed.
Building electric fences as requested by farmers, in reaction to a bear having visited the farm.

Camera trap installation & image analysing.

Periodic transects under wind turbines to check if there are birds hit by the blades.
Check upon griffon vulture gatherings. As some of them have been provided with a GPS-tracker, it is known where they gather. We check these GPS-points to inventory where the vultures roost, what they eat, if signs of other animals are present, ánd to make sure that the feeding wasn't a poisoned carcass.

Pond inventories: what is the size and state of natural and artificial ponds. Due to climate change a year-round availability of water is no longer a certainty. For most animals, from large mammals to amphibians and insects, ponds are a life necessity. The inventory provides insight and may lead to interventions carried out through the project "Drop by Drop" designed by Salviamo l'Orso.

Provide safe road crossings for fire salamanders, especially in spring when they are all around and about.
This was in it for me
After a month I went home with new energy, new insights in the region, the world and myself, and:
rewilding knowledge, competences, and skills, which I learned from the Rewilding Apennines staff and from the other volunteers, mostly students;

feeling connected with the area, the landscape with its people, culture, natural and regional history, the flora and fauna, earth as she presents herself here;

being happy to be able to contribute to Rewilding Apennine's communication by providing content (texts, photos, and videos) and by acting as their ambassador while being in the Central Apennines (e.g., at the Plastic Free Italy- initiative on Earth Day);

being amazed by the grandness of the landscape and the beauty of the first crocuses and violets that sprout from the just de-iced ground; touched by the griffon vultures we found under wind turbines, both of them were killed by the impact of a blade; feeling fortunate to be here knowing that in this area bears are coming out of their dens joined by their new-borns; grateful for the friendliness of the people in this area that welcome us volunteers and are open to conversation.
Want to know more?
Have a look at: rewilding-apennines.com
Rewilding Apennines offers several volunteering opportunities, ranging from one day and five day experiences (rewilding-apennines.com/rewilding-experiences-en/) to the volunteering programme of at least one month (rewilding-apennines.com/volunteering-programme/), which I highly recommend. 😉

* Abruzzo, Lazio, and Molise National Park; Sirente Velino Regional Park; Monte Genzana Alto Gizio Regional Reserve; Maiella National Park; Collemeluccio-Montedimezzo Alto Molise Biosphere Reserve; Monti Simbruini Regional Park.