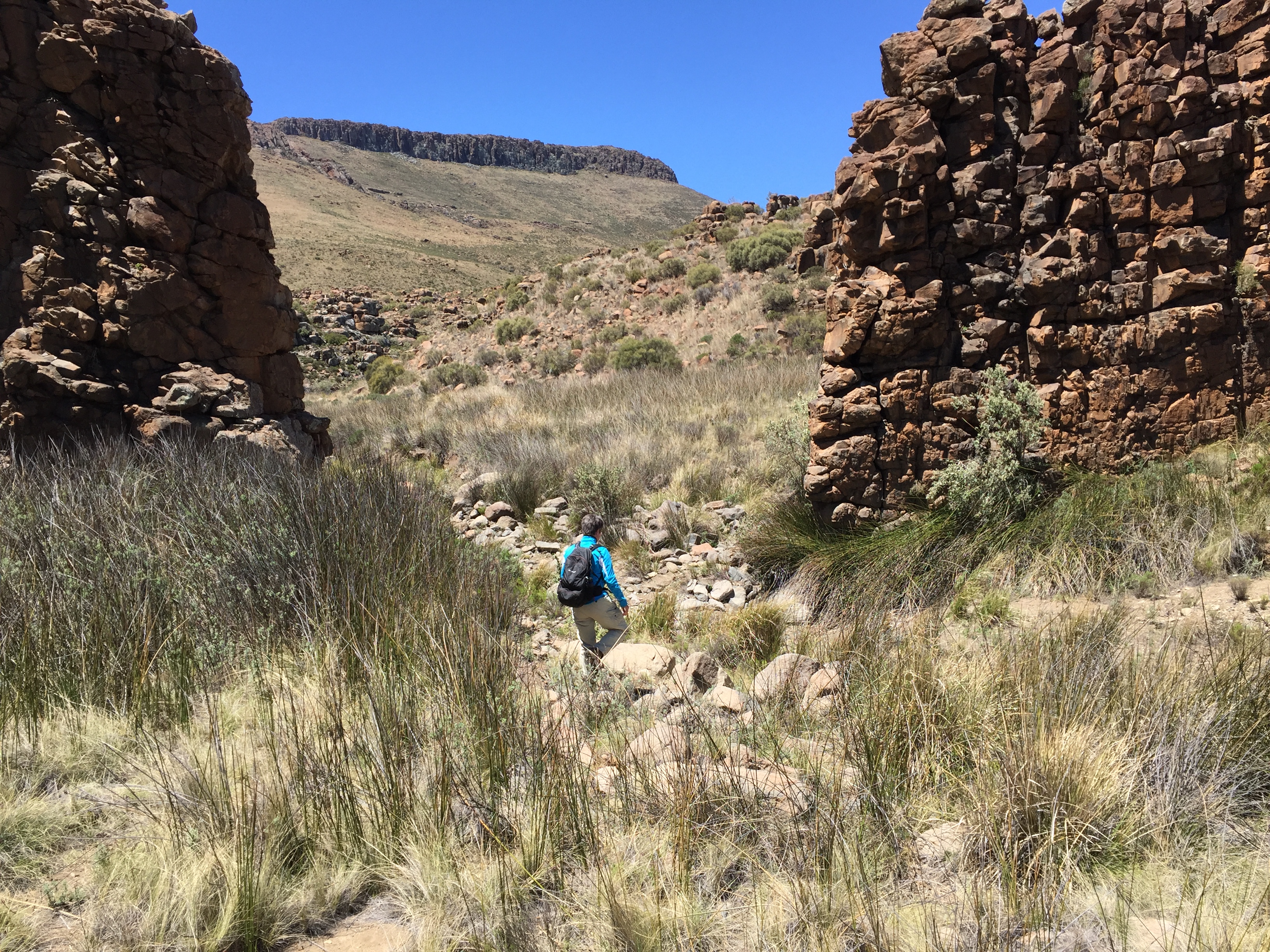 My mouse and I

In October 2017 I travelled to Bergplaas, South Africa, for the one-week programme Spirit of the Wild. It offers a one-to-three-week wildlife, guiding and leadership experience that awakens each participant's pathways of knowledge, belonging and purpose*. Among many experiences, the encounters with a mouse were most profound. I'd like to share this story with you.
During the second night at Bergplaas, just before the lights went out, a mouse showed itself in my room; he was sniffling in front of the closed door. In the spirit of fellow-participant Banele's story – at home he slept twice with a snake under his bed, having made the mutual agreement not to disturb one another – I decided to just let him be. Lying in my bed I heard the mouse roaming around the room … tap, tap, tap, tap … I heard his little feet go back and forth. I was wondering what he was up to. Of course I knew he could climb into my bed, I just hoped he wouldn't do so.

At one point I woke up, startled, because I thought I felt the mouse going over the duvet cover, just behind me. Quickly I put on my light and yes, there he was! Of course he fled at once. He was a brown mouse: not very tiny, not very big, not scary, not dirty … just present.
Under the closed door there seemed space enough for the mouse to get in and out of the room. But I decided to open the door anyway; maybe that was what the mouse needed. To be honest, I hoped he would go and leave my room. I guess he did, for I didn't hear him anymore. Or I just may have fallen asleep.
The next morning at breakfast I told my story. Fellow-participant Simone figured right away this mouse must have visited me for a reason. "Just ask Ian; he has 'medicine cards'. These ancient stories give meaning when an animal reveals itself to you." So I told Ian about 'my' mouse and he handed me the story of the Jumping Mouse.**
Some nights later, my mouse came back to my room. I welcomed him and asked him not to come to my bed. Also I opened the door for him and decided to let it open the whole night. Furthermore I didn't think about the mouse that much; already the entire evening I was busy in my head. The programme was about to end the next day. Saying goodbye and leaving Bergplaas with all its beauty in animals, landscape, birds, skies, people and fresh winds was not something I looked forward to. Besides that, deep inside I feared I would not have learned enough, nor have been able enough to encounter and leave behind my burdens of fear, anxiety, lack of self-confidence, sadness and doubts. It made me feel troublesome and restless. Therefore I invited the baboon-boss I met during one of my morning walks and who I visualised before in a guided meditation. Unfortunately I could not get in touch with him.
All of the sudden my mouse entered my thoughts; he was right here in my room! My baboon-boss wasn't the one to turn to now, it was my mouse! I asked him to help me, to give me advise or guidance to clear my mind. And he did. He opened a door for me. I felt space within myself; it filled with warm, calm energy. Not the energy that I'm used to feel; the energy that makes me dó things. It was a joyful energy that helped me to relax and to let go. It felt so good! 'Thank you, mouse', I said with my inner voice, and I fell asleep.
During my last night at Bergplaas, I heard my mouse coming through the corridor. 'Welcome, mouse', I said. 'Please don't come into my bed, but feel free to roam around.' I added: 'I do hope you have another message or advise for me. I'll open the door for you, maybe you can open my door a little bit more.'
This did not happen. Yes, I was a bit disappointed, but I also know I may have wanted it too badly. I may have been too troubled in my mind and I may have held on to that too much without letting go of it. Now I see that once again, my mouse did give me a new insight into myself.
The next morning I left Bergplaas. It hurt to go. And it felt good to go. The love and warmth I had felt, I took with me along my journey the following days in this beautiful country, South Africa, and I took it back home to Nooitgedacht in The Netherlands.
** www.universeofpoetry.org/metis.shtml;http://www.ilhawaii.net/~stony/lore116.html
It was great reading this Jumping Mouse story! I read it slowly and out loud to really let it come to me and feel its effect:
- Listen to what you feel in your body and to what your senses are telling you!
- Follow these sensitive, spiritual messages.
- Let go of all rational reasons not to follow what you feel.
- Let go of fears, hesitations and doubts, especially where they are connected to your own power, because you dó possess the power to follow these messages, feelings and suggestions without having to explain or know what they are about.
- Trust the animals, landscapes, trees, plants and people you meet along your journey. You need them to stay on the right track; whether they give you something or you help them in any way.
=> Let go & gó! Trust in and enjoy your journey.